December 23rd
On our last full day in St Louis, I had two appointments for photo-shoots. The biggest day in my history of photography thus far. The first session started in St Louis with my nephews. I felt honored that they asked.
Twas the night of the rehearsal dinner (December 21) while dining with my bro-in-law and sis-in-law, that I heard behind me "Aunt Debbie".
When I turn around, to see the commotion, my nephew was there asking if I would have time to shoot he and his little brother while there.
Did I have time? I'll make time! Those were my thoughts and so we set up a time early for the day after the wedding (December 23) to meet over at the park such that we could shoot not only them but their cars too!
This aunt heart enjoyed the next hour and a half directing and shooting until our hearts were content.
Younger brother, my how they love baseball, especially the St Louis Cardinals.
Big brother and his pretty ride.
 I plan on getting back to these pix in about a week or so. I may post more of them at that time.
After playing around in the park…oh, did I mention the po-po came and scolded us? Of all things, seems too many tires were on the grass? I just smiled and told him we would move.
Anyway, after playing in the park, the hubs and I moved on up the road to visit his sister and her family.
And I had another photo shoot with her son, our nephew and his wife! Yea!!! This so happens to be my very first couple photo shoot too, exciting!
So off to the park we strolled…
I immediately thought this train made for a great backdrop. So we went with it.
Two love birds in the park.
Words, there are no words for such sweetness.
 Fun was had by all.
And I'm so happy I directed them to kiss! Love truly is the sweetest thing…
Here we all are back at my sis-in-law and bro-in-laws home with their two boys and their families.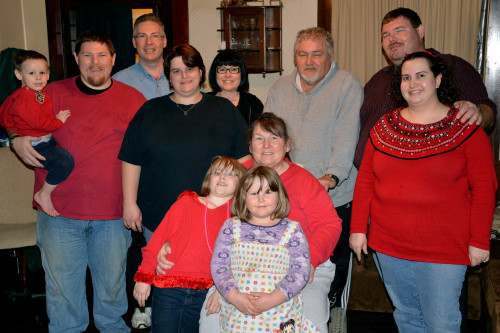 After a nice meaningful visit and dinner with the family, we made our 2 hour trek back to St Louis such that we would be on time for our flight out (to Florida) the next morning, Christmas Eve.
Blessings – Debbie